History of Our Club
Our club was chartered on January 17, 1977. It was sponsored by the
Santa Clara Kiwanis Club. A founding member, Val De Leon, is still with the club. Over the years, the club has had many outstanding members and community leaders, and has contributed many thousands of dollars into community organizations and projects.
Thank you



Our Charter
* To give primacy to the human and spiritual rather than to the material
values of life.
*To encourage the daily living of the Golden Rule in all human relationships.
To promote the adoption and the application of higher social, business, and professional standards.

To develop, by precept and example, a more intelligent, aggressive, and serviceable citizenship.

To provide, through Kiwanis clubs, a practical means to form enduring friendships, to render altruistic service, and to build better communities.

To cooperate in creating and maintaining that sound public opinion and high idealism which make possible the increase of righteousness, justice, patriotism, and goodwill.
Great work team!



Our Club Officers
Gloria Torres-President
Ursula DeLeon-Vice President
Maria Cruz-Secretary
Mary Helen De Leon- Treasurer
Patricia Gomez-Sgt. at Arms
.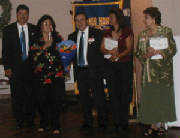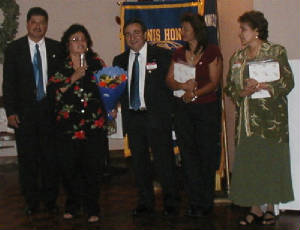 Gloria Torres (second on the left) is our President.